Your 360-degree Brandcom / Marcom is incomplete, if you don't have Digital marketing as part of the strategy bouquet. The cost-efficiencies and the constant customer-engagement opportunities make Digital Marketing a killer tool for any brand owner and with Bricks, you can make a killing out of it. The convenience of being measurable to the last click, flexibility in terms of half-way course corrections, generating customer and competitor intelligence like never-before are a few more edges that make it even more scientific, and very terrific. The most prominent of the Digital Marketing Channels encompass SEO, SEM, SMM and SME.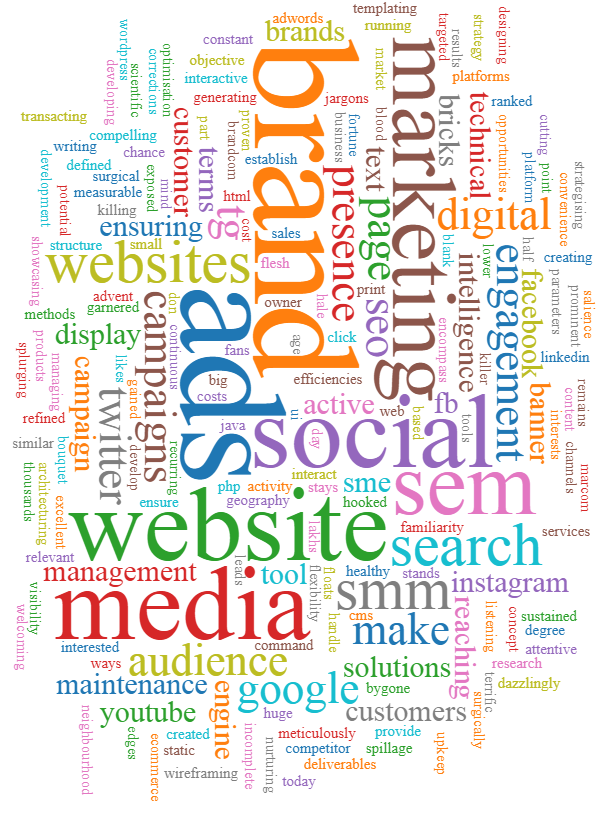 Website Development
With the objective of creating a compelling web presence for your brand, Bricks does everything from Concept to Maintenance of a Website: Architecturing the Website structure, wireframing, designing & templating the UI, Developing the website using appropriate tools like HTML, Java, PHP, Wordpress, etc.,and Content-writing. We also provide Maintenance solutions for websites that need continuous nurturing and technical upkeep. We develop static websites, CMS Websites and eCommerce websites.
SEO: Search Engine Optimisation
Cutting the technical jargons down, it's about strategising, managing and meticulously ensuring that a brand's website gets ranked as one of the first page results on Google search. It's a recurring activity which needs to be sustained to ensure your website stays hale & healthy,and remains welcoming for potential customers and leads.
SEM: Search Engine Marketing
With the advent of Google, Search-based Text ads, Banner ads (Display ads), etc., are proven methods of reaching out to your TG in surgical ways, with least/zero spillage. If your Print campaigns establish Brand visibility and familiarity to help you command brand salience in the customers' mind, SEM gives you point-blank sales. At dazzlingly lower costs.
SMM: Social Media Marketing
Similar to SEM, SMM is reaching your TG that's active on Social media platforms like Facebook, Instagram, Twitter, YouTube, Linkedin, etc., These ads too are surgically targeted, in terms of audience's interests, geography, age and more defined & refined parameters ensuring your campaigns are exposed to the audience who is likely to be interested in transacting with your brand.
SME: Social Media Engagement
Today, every brand, big or small, is on Facebook. It has a business page on FB, with thousands or lakhs of fans (likes) hooked on to it. Almost, every other brand has a twitter handle. Every neighbourhood store floats an instagram page, showcasing its products, services, etc., Why?
Because, with a presence created for your brand on a relevant social media platform, it stands a huge chance to keep the audience engagement up and running, every day. Social media presence can help brands to interact with their TG in flesh and blood. It's an excellent listening tool too: the intelligence garnered through being active, interactive and attentive on social media is something that the brands of the bygone era gained only after splurging a fortune on market research.
Deliverables:
SEO Solutions
SEM - Text ads like Google Adwords, Banner ads, Display ads, Campaign Management
SMM - FB ads, YouTube ads, Twitter Campaigns, Campaign Management